The Power of Personalisation for Corporate Gifts
6 November 2023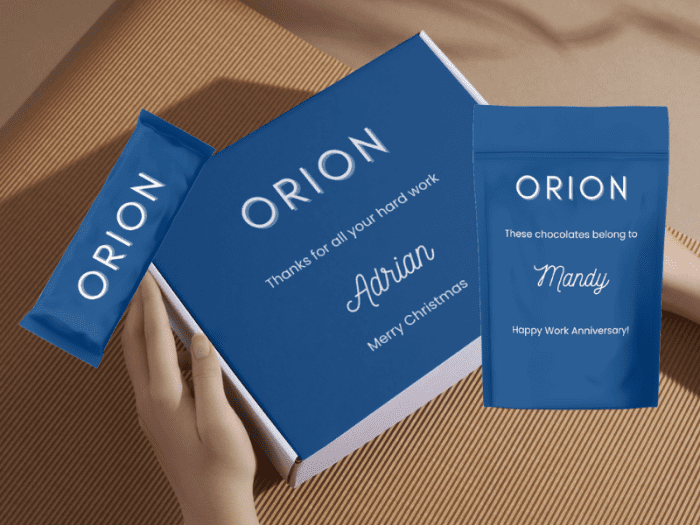 Businesses around the world are gearing up to spread some festive cheer among their hardworking employees. Corporate gifting takes centre stage around Christmas. What better way to make your employees feel truly appreciated than providing them with personalised Christmas gifts? Learn why personalised gifts are important, and get some ideas below.
The benefits of personalised gifts
Make your staff feel truly valued by including personalisation in your corporate gifts. It can enhance the traditional gift, by adding that special touch that transforms it into something unique and memorable. Personalised gifts reflect individuality, interests, and preferences, showing that you've put thought into the gesture.
Custom corporate gifts convey an emotional impact that goes beyond the material value of the present. By adding personal features to presents you foster a deeper sense of connection and appreciation. Why settle for the ordinary when you can make your employees feel extraordinary with personalised gifts that truly resonate with them?
How to choose the perfect personalised gift
Consider the Recipient's Personality and Interests
Selecting the ideal personalised gift starts with understanding the person you're gifting. Consider their personality, hobbies, and interests. Is your employee an art enthusiast, a foodie, or an adventure seeker? Tailoring your gift to match their passions can make it all the more special and thoughtful.
Add Personal Features, like Names or Pictures
Personalisation is all about making a gift uniquely theirs. You can transform a standard gift into a treasured keepsake by adding personalised touches. Add custom features such as your employee's name, picture or even an inside joke for that extra special feeling. This personalisation not only adds a sense of belonging but also ensures your gift stands out from the crowd.
Incorporate Additional Features
While the core of personalisation often revolves around the gift itself, don't underestimate the power of accompanying elements. Add extra layers of personalisation through beautiful packaging, heartfelt cards, or custom labels. These additional features can enhance the overall gifting experience and make it even more memorable.
Quality Over Quantity
High-quality gifts demonstrate your thoughtfulness and can be cherished for a long time. Whether it's a custom-made item or a carefully selected product, focus on the quality to ensure your gift lasts.
Consider the occasion
Consider the context and timing of the gift. Is it a birthday, a work anniversary, or simply a gesture of appreciation? Tailoring your gift to suit the occasion can make it even more meaningful. For instance, Christmas-themed gifts can add an extra layer of festivity.
Surprise and Delight
Sometimes, the element of surprise can be a fantastic addition. A personalised gift that the recipient wasn't expecting can create a delightful and memorable experience. Consider creative ways to present the gift or the timing of the surprise for added excitement.
Sentimental Value
Adding sentimental value to your personalised gift can make it truly unforgettable. Think about shared memories, inside jokes, or personal milestones, and incorporate them into the gift. This helps to evoke emotions and create a lasting impression.
Personalised corporate gifting ideas
Personalised Alcohol Bottles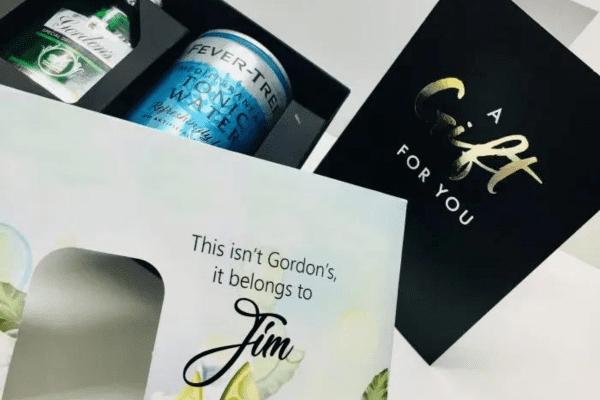 Raise a toast to the spirit of personalisation by gifting your employees their favourite alcohol, adorned with a personalised label. Presented in a custom box it not only adds an extra layer of sophistication but also aligns with your company's identity. You can also include extras such as a card featuring their name or message. This crafts a memorable gift with a truly personal touch.
Personalised Stationery

Enhance your employees' office experience by personalising essential items. Branded gifts such as stationery, such as cups, notepads, and mouse mats, can brighten up their workspace. Add their name or even a photo to create a unique and practical gift that they'll use daily. This also helps reinforce their sense of belonging within your company.
Custom chocolate boxes or sweet treats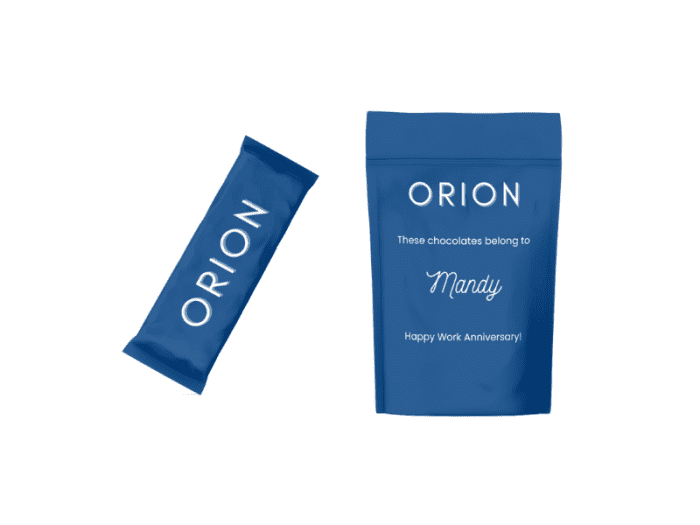 For those with a sweet tooth, consider creating a unique chocolate box containing all their favourite chocolates or sweets. Not only does this show that you pay attention to their preferences, but it also makes the gift a delectable delight. This extra special customised gift is a great solution for corporate orders.
Personalised Hampers for a Unique Treat

Hampers filled with an assortment of your employees' favourite things can be a delightful surprise. Elevate the experience by personalising the labels, cards, or packaging. From gourmet snacks to spa essentials, a personalised hamper helps to add a special touch. With a wide range of items to choose from, you can tailor the business gift to suit each employee.
Tailored Gift Boxes Reflecting Identity and Interests

Create a unique gift box that speaks to your employee's identity and interests. This can be a combination of items that cater to their hobbies, passions, or even their milestones. By curating a gift box that reflects who they are, you demonstrate your appreciation for their uniqueness.
How can Orion Security Print help with personalised gifts for employees?
Orion Security Print is your one-stop solution for creating exceptional personalised gifts for employees. We specialise in crafting bespoke packaging, labels, and cards that add a unique touch to your gifts. With our alcohol licence, we can fulfil alcoholic beverages with custom labels and packaging.
Our in-house design team collaborates with you to ensure your vision comes to life. Our unique equipment, including engraving and foil application, adds that extra touch of luxury. Our range of personalisation options ensures each gift is memorable and valuable.
We also offer flexible delivery options. We can deliver the personalised gifts directly to your employees, or we can send them to you to gift directly. With Orion Security Print, your personalised gifts will leave a lasting impression, showcasing your appreciation for your valued team members.
Contact our team to find the perfect gift for your employees.