Orion Joins AFO: Supporting Festivals, Events, and Live Arts
16 September 2021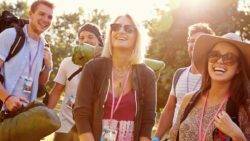 In July, Orion became a member of The Association of Festival Organisers (AFO), a membership group of like-minded festival and event managers who believe in learning and teaching, sharing and networking to continuously improve the festival scene.
AFO started in 1987 when a group of festival organisers came together to share views and ideas with the aim of supporting each other and the festival scene as a whole. Since then, the group has continued to develop and grow, providing support for its members and a voice for the festival and events industry to HM government, local authorities, UK live music industry, the industry press, radio and tv and more.
Head of Sales Adrian Elliott commented on Orion's AFO membership.
"Orion have been working in partnership with small independent events to large scale festivals like Glastonbury for over 30 years, producing tickets, car parking permits, show badges and event accreditation. AFO are an organisation that provide vital information to both new and established festivals, their support and knowledge sharing over the last, dreadful, COVID-hit 18 months, has been priceless. Hopefully there is light at the end of the tunnel and events, albeit at reduced capacity, are starting to happen again. We felt joining the Association of Festival Organisers was a great way to reach Festivals that were not aware of the services we provide. Historically we are known in the industry as a print and fulfilment provider. However, over the years the market has demanded an investment in our technology offering using this to add an extra level of security to help protect brand reputation. We are constantly enhancing our IT services to include more personalisation and tailoring our fulfilment services to enable festivals to send out merchandise from our secure unit. We really look forward to seeing how we can help and offer advice to the current membership of the AFO."  
If you'd like to know more about Orion's AFO membership, or any of our work with the events industry, please get in touch.