Customer Rewards Schemes – Do They Really Work?
26 November 2021
Customer reward schemes are proven to encourage customer loyalty and retention, as well as increase sales, across a range of different industries. 
The upsurge of entrepreneurship over the past two decades has created a wave of new businesses in almost every single industry. Now, business owners are facing more competition than ever – each brand competing not only to win new customers but also build loyalty with their existing customer base.
Customer reward schemes have been a staple of businesses worldwide since American Airlines launched their Frequent Flier program in 1981, which is widely considered to be the first full-scale loyalty scheme of the modern era.
Now, almost every retailer offers a customer reward scheme. But what actually are they? Do they really work?
What is a customer reward scheme?
A customer reward scheme is a marketing strategy that recognises and rewards customers who regularly engage or purchase goods from a brand. Having a scheme like this in place, companies can provide their clients with points or perks and graduate them through scheme-tiers the more they buy. It follows a simple exchange; to receive rewards, customers must follow a particular action like a purchase or sign-up, etc.
Providing your customers with an additional product, discount, or service with a purchase is an effective way to reinforce a buying decision and build customer loyalty through methods such as loyalty cards. These reward schemes can come in various forms such as a points-based system, a tiered program, a cashback program, a discount program, offering free gifts, offers that are personalised to a consumer or even a referral program.
The benefits and drawbacks of customer reward schemes
A customer reward scheme seems impressive. But before you employ this marketing system in a business, you must evaluate the benefits and negatives to guarantee suitability for the company.
Benefits
Enhanced customer retention – Psychological emotions play a significant role in returning customers. People are more likely to return to something (such as a business) if they feel like they're making progress towards a goal, such as increasing their loyalty points for free goods. It's a practice that's been tested over time and is commonly referred to as the endowed progress effect.
Increases overall transaction value – Additionally, it can boost the sale value of customers. If they're trying to obtain a freebie, discount, or another incentive, they feel more inclined to spend more to reach their reward goal. In fact, a detailed report was produced by Bond Brand Loyalty, which suggests that 66% of shoppers spend more to reap the benefits of a reward program.
Customers love them – Lastly, customers love them, especially millennials. According to Real Business, 81% of millennial shoppers say that being involved with a reward scheme pushes them to increase their expenditure with a company.
Building customer loyalty – improving loyalty between your brand and the consumer is very important for the business as it can lead to many benefits. Customers who build a connection with your brand and increase that loyalty are a lot more likely to make repeat purchasing, which results in a higher customer lifetime value. Loyal customers are also more likely to spend more, which is essential for sustained business success.
Valuable insights – as you offer customers a reward scheme, it may often involve collecting customer data which can provide your business valuable insights. You are then able to use this data you've collected to understand your audience better, their behaviours and preferences. By doing this, you can tailor your offerings and marketing strategies to provide a much more bespoke and positive customer experience.
Drawbacks
Increased checkout times – A downside to loyalty cards (online or offline) is that they increase checkout times. Depending on what type of system they have implemented, this could range massively from a few seconds to a couple of minutes.
Maintenance – Another drawback is that the scheme itself requires a lot of maintenance in terms of monitoring, software, deal relevancy, testing, and much more to ensure the scheme remains optimised.
Identifying loyal customers – Often, it is difficult to differentiate brand loyal customers from repeat buyers. When consumers make frequent purchases with your business, it simply does not mean they are loyal to a product or service. They might be buying it because of the perks that you are offering. Hence, the accurate identification of loyal customers may not be estimated by the loyalty program.
What organisations use customer reward schemes?
Organisations around the globe have applied customer reward schemes within their business strategies for years. Since new, innovative, and high-tech systems have been developed around this marketing strategy, it's almost rare not to find a company using a reward scheme.
Any customer-based industry can implement a loyalty scheme; from hospitality and retail, to telecommunications and petroleum (we've all been asked for our loyalty cards at the petrol station). However, each is tailored to its unique target audience.
How do they utilise them?
As mentioned, there are various loyalty reward schemes out there, which can be attached to an app or a loyalty card. Each has its benefits and, depending on the business's structure, can provide excellent returns. The three most popular reward schemes tend to be:
Point-based loyalty rewards – The most famous and recognisable reward scheme is point-based, as 73% of all incentive systems follow this method. For example, each transaction made in Starbucks gives customers a "star". These can then accumulate into free drinks, shots, syrups, and more. The more points (or "stars") you accumulate, the more you're rewarded.
Always on perks-based rewards – Another popular type of loyalty program is "always on rewards" or "perks", which provides customers exclusive discounts or benefits that can be redeemed at their convenience. It isn't always linked to spending. Instead, the company may want customers to sign-up or enroll in their subscriptions. One example of this is O2: their customers are sent special deals each week, which vary in discount codes for clothes, shopping vouchers, or even gig tickets.
Continuous and instant reward hybrids – Shell has recently replaced their point-reward system with a continuous and instant hybrid. With this, Shell customers who have signed up to their Driver Club can be rewarded for visiting the premises – not just for fuel. These points can then gather and be exchange for goods.
So, do customer reward schemes really work?
For businesses, customer loyalty increases profits, improves sales success and allows for sustainable growth. A well-designed and well-executed loyalty programme can help you retain existing customers, attract new customers, and drive profits.
And it seems that customers can see the value too. Nearly 6 in 10 UK adults believe that brands should offer loyalty programmes, and almost 60% of internet users cite 'earning rewards' as one of the most valued aspects of the retail shopping experience.
The average repeat customer spends 67% more in month 31-36 than they spend in month 0-6. 95% of companies report that their loyalty members spend more annually than non-members, and almost 50% of consumers actively admit that this is true about themselves.
What Orion can do for your Customer Reward Scheme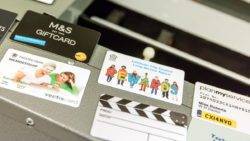 Customer reward schemes are proven to encourage customer loyalty and retention, as well as increase sales, across a range of different industries.
We are one of the UK's leading manufacturers of plastic loyalty cards for major retailers, banks, incentive groups, restaurant chains, sporting clubs, experience providers, as well as online retailers, helping them to achieve significant sales and performance targets driven through various loyalty schemes.
Our plastic card printing capabilities include many security features and design elements such as:
2d Barcodes
QR codes
Security scratch off pin code panel
Signature panels
Available in a Gloss or Matt finish
Magnetic stripes (with or without encoding)
Sequential numbering
Luxury foil finishes
Bespoke designs
Colour printing to one or two sides
We also have the capability to provide loyalty and membership programme fulfilment as a service, both digitally and physically.
Please speak to a member of our friendly sales team who will listen to your needs and help advise with the best solutions available.