Clarity Mail: The Hybrid Mail Management System
30 November 2020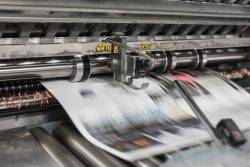 Orion's Clarity Mail is a leading hybrid mail management system that allows your business to streamline its outbound mail process – significantly reducing costs and saving valuable time.
Now more than ever
With more of us than ever now working from home, and many businesses having to operate with reduced resources, continuing to deliver our services is becoming more dependent on web-based "access from anywhere" technology. This has become particularly relevant to those remote workers who need to continue producing and sending vital customer communications via post. The office printers, franking machines, and mailing equipment on which we would normally rely to produce our documents and process our outbound mail are less easily accessible.
As well as remote workers having limited access to resources, businesses that continue to produce and send their mail in-house can often find it difficult to control their mailing costs and resources due to daily fluctuations in the amount of mail being sent; seasonal demand; and ever-changing customer preference to print and digital media. When you factor-in the costs of rental and servicing of franking machines; printer equipment and consumables; pre-printed stationery; and office and mailroom labour, the in-house production and distribution of mail can be over £1 per letter. This is as much as 60% higher than the cost of outsourcing the outbound mail process.
So, what's the solution? Hybrid Mail.
What is Hybrid Mail?
Hybrid Mail systems allow for letters and documents, which would ordinarily be printed on a desktop or office printer, to be uploaded onto a secure server and transferred to a printing and mailing specialist for production and distribution. The automation and outsourcing of the outbound mail process allows businesses to reduce the costs associated with in-house mail production and distribution, and benefit from increased staff productivity.
How does Hybrid Mail Work?
We will supply you with a secure print driver that allows you to send files directly to our mailing facility rather than your office printer.
Once installed on to your network, the print driver can be accessed via the normal print options and will be appear alongside the existing printers on your network.
Selecting the print driver will then launch your Hybrid Mail platform, which will allow you send your documents directly to your provider's secure server. After you have selected your print and postage preferences, the file is then submitted, and we will produce and distribute your documents.
Clarity Mail
Clarity Mail is Orion's Hybrid Mail Management system, developed by our sister company Integrity Connect. We currently mail out thousands of business-critical items every day for our client base. Due to the sensitive nature of much of the work that we do, we operate to the highest standards of data security, being accredited to ISO27001, the Information Security Standard.
The print driver that we supply you enables access to the Clarity Mail system through a robust, encrypted link to our Secure FTP servers.
Due to the high volumes of post that we process every day, we have access to postal discount rates that significantly reduce the costs of mailings. By consolidating your office mail into our production environment, we are able to pass on these discounts to you, even if you only send a low volume of mail to us
You create your mailings as normal, but we will take away all the hard work of printing and enclosing your letters into envelopes, leaving you and your staff time to focus on more valuable tasks.
With no set up fees and no licence costs, you can use Clarity as often as you wish, sending one letter or several thousand at the press of a button, and all for less than the cost of a second-class stamp. Additionally, any uploads we receive before 3pm will be despatched on that same day.
Benefits of Clarity Mail
Clarity Mail allows desktop correspondence generated in familiar applications such as Microsoft Word to be consolidated and produced in an optimised production print environment. This approach has many advantages over the traditional method of manually producing these documents within an office environment; one of the key benefits being cost savings. Typical desktop document production costs are between £0.70 & £1.20 per letter. These costs are made up of multiple elements, but often include the following:
Staff Time – Staff are spending time printing and enclosing documents. With Clarity Mail the document is created and submitted in a few clicks, leaving the user free to work on other tasks while the document is printed, fulfilled and mailed from our high-volume print facility.

Local Printer Consumables

– Desktop and multi-function print devices require expensive toner and other consumables. Routing these documents to the Clarity Mail high volume, optimised production environment allows these costs to be reduced through efficient production equipment and economies of scale.

IT Support

–

23% of all IT support calls are printer related. By outsourcing desktop letter production, you can significantly decrease the load on your IT Help Desk.
Departmental Stationery Costs

– Letterheaded paper and envelopes are often purchased and managed departmentally meaning you can't take advantage of bulk order discounts.
Postage Costs

– Whether letters are being sent with a stamp or through a franking machine, it is unlikely that you are taking advantage of the best postal rates. We can obtain significantly higher postal discounts due to our higher overall document volumes.
Post Room

– Running and staffing a post room is an expensive activity, the Clarity Mail service will eradicate or reduce your requirement for such a facility.
Environmental Benefits – By reducing paper usage and optimising delivery, clarity mail or hybrid mail can help have reduce the carbon footprint associated with traditional postal services.
Customisation – You have the ability to customise your hybrid mail in terms of branding and design to really connect with customers and spread brand awareness with a communication service that makes an personal impact.
Scalability – Hybrid mail allows for large volumes of mail which causes it to be suitable for all sizes of businesses. This causes it to be a scalable way of communication and marketing for growing companies.
Time Efficiency – Hybrid mail helps to streamline the process of sending physical mail. It is able to skip the tasks of printing, folding and stuffing envelopes with manual addressed letters. Therefore, it provides extra time for companies to spend on other matters.
How can Hybrid Mail benefit my company?
Hybrid mail can offer significant benefits to companies. Firstly, it streamlines the mailing process by digitizing and automating various steps. This reduces manual labour, saves time, and increases operational efficiency. With hybrid mail, businesses can easily compose and send personalised mailings in bulk, allowing for targeted marketing campaigns and improved customer communication. The digital aspect of hybrid mail enables businesses to track and monitor mail delivery, ensuring greater transparency and accountability. Additionally, hybrid mail eliminates the need for physical storage space and associated costs, as documents are stored digitally. It also reduces the environmental impact by minimizing paper usage and transportation. Overall, hybrid mail provides companies with a cost-effective, time-saving, and environmentally friendly solution for their mailing needs.
Are you in need of Clarity Mail?
Are you in need of clarity mail solutions for your business? If so, we've got you covered! Our comprehensive hybrid mail services offer a seamless blend of digital and physical mail delivery, streamlining your mailing process and improving operational efficiency. Whether you're looking to enhance your targeted marketing campaigns, improve customer communication, or reduce storage costs, our solution can cater to your needs. For more information on Clarity Mail or to arrange a free, no obligation demonstration, please call our friendly team or leave us a message.